Best Headstock For Taig Mill and Sherline Ever?
(Even better than R8?)
Awhile ago I reported on what I felt was a huge leap forward for Taig and Sherline products by a company called GlockCNC. I use their ER40 and R8 headstock all the time. Because I'm on their email list, I get updates on new products as they come out. The latest offerings are pretty exciting (well, at least to me they are, not so much for my wife when I told her about them). They now have BT-30 & 5C headstocks!
In watching the video on the GlockCNC BT-30 headstock, I agree with everything he says. I too like and use the Tormach Tooling System in my R8 spindle, however it has flaws. For me it's the runout issue. There are just to may parts between the bearings and the cutter in the TTS. Using a BT-30 spindle upgrade makes so much more sense. The tooling is very reasonably priced compared to the level of accuracy. I took a look around the internet and I can get .0001″ runout tooling for around $50 and used name brand for about the same. I also love the idea of placing the tooling so far up into the bearings. That also makes great sense. I'm willing to give up the dual contact benefits of the TTS in order to put the load higher into the bearings and get rid of extra parts, like in the TTS, to gain even more accuracy. Here's the other feature I like; dual bearings to hold the tooling. We all know commercial spindles use two or more bearings on the load end of the spindle. With GlockCNC doing the same thing and moving the tooling taper up into those bearings, it's now more akin to a commercial spindle units performance. This is simply impossible to do with the R8 system. The taper is so short. Only a small part of an R8 taper could sit inside the bearing area. Most R8 spindles seat the R8 tool way outside of the bearings. The only downside to this was, I dragged my feet and ordered one of these headstocks kind of late. But that's ok, I'm confident that it was worth the investment. (By the way, I opted for the ABEC7 precision matched angular contact bearings. It was a bigger investment for sure, but I always try to buy "best in breed" when I can afford it. It seems to payoff in the long run.)
Again, another great idea. Taig already has a 5C and it's pretty nice….however, I still went ahead and ordered one from GlockCNC and here's why. Firstly, I own both a Sherline long bed lathe and a Taig gang tool lathe. This headstock can be used on both. One huge downside to the Taig 5C and the OEM Sherline headstock is the inability to use bigger chucks. Most commercial grade super precision chucks are 5″ or 6″. Even if the Taig headstock could hold 6″ chuck, I'm afraid their bearing setup just won't support it long term. GlockCNC did the same thing they did with the BT-30 and put two bearings up front to handle the load. The headstock on the GlockCNC is about as large as I dare put on either the Sherline or Taig. Anything bigger would probably be too big. That being said, I wouldn't mind it if they also made a larger version of the 5C headstock for one of my bigger lathes. Who knows, maybe that's next for them. Anyway, I ordered one of these too. (For this one, I also went with the ABEC7 angular contact bearings. It was more than I was originally wanting to invest, but you know my moto…)
About Time There's a Sherline & Taig Headstock Alternative
by Jeff Harrison
From hobby guys to watchmakers, everybody in mini machining knows Sherline and Taig.  While they are good little machines, there are always those things that bothered me. For one, why can't we get different collet sizes? Take a look at the Sherline lathe. You can get MT1, ER16 or 3C with a tiny through-hole in the spindle. For the really small stuff, that's fine. Or even the WW collet system for very tiny stock. But, if you have anything bigger than the ER16 or 3C will handle, then you're out of luck. Not that long ago I came across a company called GlockCNC.com. I say I came across it, but it was actually recommended by a watchmaker I know. He loves their products. Anyway, they offer ER25 up to ER50 collet size spindles. The smart thing they did was change the headstock and bearings too. Frankly, the bearings in the Sherline and Taig, mill or lathe, are pretty wimpy compared to the GlockCNC bearings. After all, if you're looking to chuck bigger parts and use a bigger spindle arbor, you need bigger bearings. Here's the thing though, not only did they have the foresight to use bigger bearings, but also offer better bearings.
The stock bearings for Taig or Sherline are probably ABEC1 or at best, ABEC3. GlockCNC uses ABEC5 deep groove bearings as a standard. They offer ABEC7 and even the crazy precise ABEC9. Both can be had in deep groove or angular contact. Personally, I prefer angular contact. It's what you get in any super precision spindles that operate in commercial settings. Here is why I like the use of biggering bearings with higher accuracy. When you apply a load to bearings, it will deform the balls to some degree. If you're going to use a more meaty spindle, you will have more rotating mass. Plus rotating mass of the cutter for a mill or stock for a lathe. The tiny bearings with tiny balls in them will deform to a greater degree than bearings with larger balls. This means under load, you can achieve better accuracy.
Obviously, these bigger bearings require a larger headstock. Which these guys have made and made it well. Take a look at the side flanges for mounting. The offer a ton more rigidity than the Sherline mounting pin. For the Taig, it does require an adapter plate, which initially I didn't like the idea. But then I watched a video about it. It's actually quite smart. You see, the Taig mill uses a dovetail system and it's pretty weak looking. The GlockCNC adapter will move the lateral loads to the entire Z axis carriage far far better than the stock dovetail system. So, it makes perfect sense.
There you have it…my take on excellent Sherline and Taig upgrades.
Check these guys out at: https://glockcnc.com/
Here's the video about the headstock and the Taig adapter:
[Top]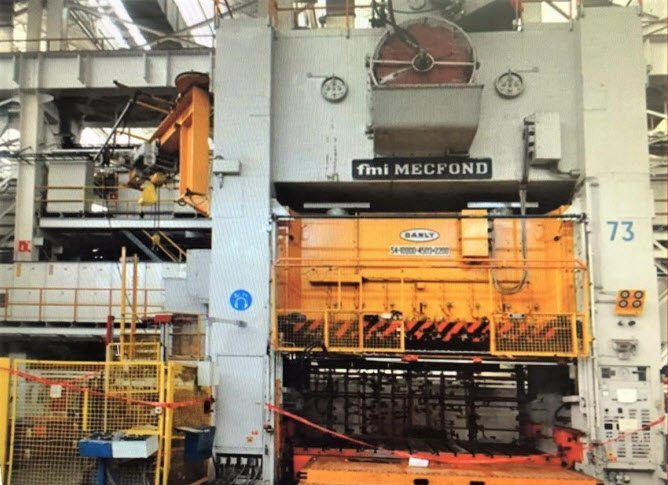 I've decided to start listing some heavy machinery photos.  Most of them will be of industrial manufacturing, such as metal stamping presses, plastic injection machines, forklifts, die handlers and related equipment.  Much of it will be larger stuff.  For some reason I really like the heavy duty big machines and equipment.  Even the railway and ocean going equipment is pretty good to photography.  Old warehouses and factories are some of my other favorites to capture.
Heavy lifts with hydraulic gantry cranes, overhead bridge cranes, mobile cranes and track types are pretty interesting as well (maybe even throw in a few photo's of lifts gone bad, those are always interesting).  It seems that the manufacturing industry is on it's way up.  From what companies are telling me, orders are up and they are buying machines.  Of course, there are a handful owners that have said they are slow, but not many.  It looks like the tough thing for them to now find is used machinery for sale.  So much of it was scraped during the last several years, that its made them hard to come by.  Especially large stamping presses.  With the price of scrap steel so high at the time, many were destroyed.  The funny thing is, those same machines are worth huge dollars now.
For more information; http://goo.gl/YJXzHl
[Top]